The Hampton Inn Philadelphia City Center
The Hampton Inn Philadelphia City Center is located on 1301 Race Street in the downtown area of Philadelphia, commonly referred to as Center City. The hotel is conveniently located near the Convention Center. The staff members take pride of their elegant and majestic hotel, ensuring that you feel comfortable during your stay. Once you stay at this hotel, you will literally never want to leave.
The Hampton Inn of Philadelphia makes a promise to its guests, ensuring that they will be provided with a clean and comfortable room. If this sounds like something you are looking for while staying in Philly, it makes sense to book a room as soon as possible. The Hampton Inn of Philadelphia tends to book quickly as this is the place people want to stay when they visit the City of Brotherly Love.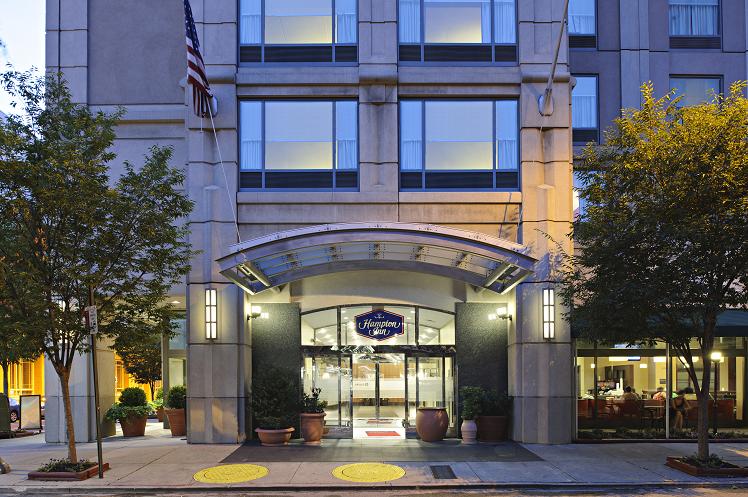 The hotel is conveniently located near a number of attractions so that you will be able to get to and from with ease. You will have no problem finding The Convention Center, Independence Hall, and even the Eastern State Penitentiary. Enjoy the comfort of the hotel while also being able to enjoy all of the attractions that Philadelphia has to offer you.
Inside of the hotel, you will notice there are plenty of things for you and your family to do. The hotel comes equipped with a swimming pool and fitness center. If you enjoy regularly working out or simply want to work out while staying at the hotel, you are free to do so whenever you want. You and your family members can also enjoy swimming in any kind of weather because the swimming pool is located indoors.
The hotel also offers high speed Internet, which is essential for most visitors. Because people are so connected with the Internet world, it is important to offer access to the Internet. Many people who are staying at the hotel will need Internet access to communicate with friends, family members, or even co-workers, especially if they are on a business vacation. You can enjoy the high speed Internet at this hotel for absolutely no extra cost to you.
If you are planning a stay in Philadelphia, why not stay at the Hampton Inn of Center City? The hotel is clean with a comfortable environment and friendly staff members who will go above and beyond to ensure that you and your family have a joyous experience throughout your stay.