Philadelphia Cream Cheese
You do not have to be from Philadelphia or live in the city to enjoy the taste of Philadelphia Cream Cheese, a cream cheese that is produced by the Kraft Foods Company. Cream cheese is a type of cheese that is most often used on bagels, assorted breads, crackers, and even as a dip for vegetables, such as carrots and celery. You can spice up just about any dish with a little bit of cream cheese. However, there is no other cream cheese on the market that tastes as good as Philadelphia Cream Cheese. It is simply delectable.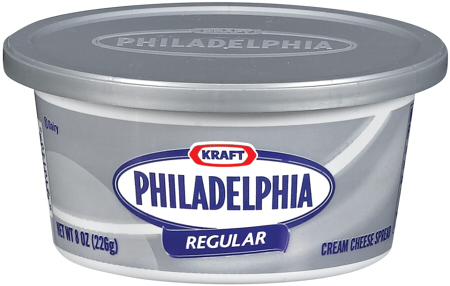 The things that you can do with cream cheese are quite interesting. In fact, Philadelphia Cream Cheese can be used as an ingredient for cheese cakes, lasagna, grilled salmon and pasta, and even delicious chocolate cakes. A few tablespoons of this cream cheese can be added to a bowl of spaghetti and sauce to really spruce it up and add extra flavor. The Philadelphia Cream Cheese package, which is known for its silver container, often contains at least one usable recipe. This means that when you buy the cream cheese, you are not only purchasing something tasty, you are getting a free recipe while you're at it!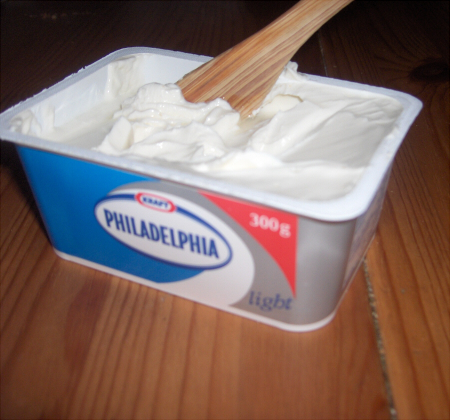 The Kraft brand also produces an assortment of different cream cheese flavors and textures for the Philadelphia Cream Cheese. For example, there is the solid bar of cream cheese or you can get the cream cheese in a container, whipped style. The whipped Philadelphia Cream Cheese is easier to spread so if you are planning on using it for your bagels, toast, or breads, you may want to consider buying the whipped cream cheese. It may be whipped but it still has the wholesome and tasty flavor.
Some of the different flavored cream cheeses that you can get include Blueberry, Sundried Tomato and Basil, Onion and Chives, Pineapple, and Garden Vegetable. You can even get cream cheese with less fat than the original Philadelphia Cream Cheese selection, or you can even choose to get the cream cheese with absolutely no fat. The Kraft Company has definitely earned quite the reputation with their cream cheese, especially because there are so many people all around the United States who cannot seem to get enough of it. Once you have a taste of the Philadelphia Cream Cheese, you will never go back to the cream cheese that you used to use.