It's Always Sunny in Philadelphia
It's Always Sunny in Philadelphia is a popular television series that is actually filmed in the city of brotherly love. The series' first featured on air during the summer of 2005 and has had much success since then. The show continues to air on FX and reruns of the show are constantly being played on different channels. Comedy Central is one of the television stations that play episodes of this sitcom. And, those who cannot get enough of the show can even buy recorded episodes on DVD, which are available online and in department stores, such as Target and Walmart.
The idea of the show is to portray a group of friends that work at a local pub in the city of Philadelphia. The pub does not do so well and is usually very empty. The group of friends hang out together and get into all sorts of adventures and while they are adults, they are quite immature, which makes the television show even funnier. One of the stars of the show is played by Danny DeVito. His character on the show is named Frank Reynolds. Other characters include Rob McElhenney, Charlie Day, and Kaitlin Olson. Rob McElhenney is not only a character on the show, he is also the man who created and developed Its Always Sunny in Philadelphia.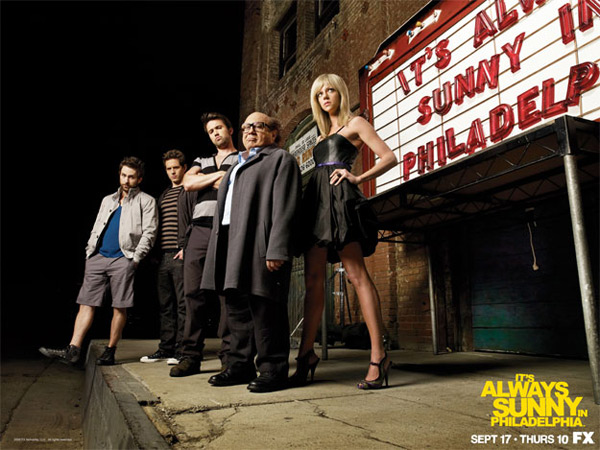 In each episode, the different characters are portrayed getting into different types of comical and dramatic situations with one another. The people of Philadelphia cannot get enough of the show, especially because the characters are constantly traveling around to different hot spots in the city, such as South Street and Penn's Landing.

While the television show is full of comedy and interesting skits that truly set it apart from other television shows, it is not meant for children or young teens. The show contains sexual content as well as provocative language, some racial slurs, and references to different types of drugs and alcohol. In fact, there is one episode in particular when the characters discuss how they should use cocaine as a way of getting on welfare assistance. It may seem a little outrageous but all of the content within the show is for humor purposes only. Most adults enjoy this kind of dark comedy in a sitcom, especially since a lot of other television shows are not like this. Those who generally enjoy dark comedy will love the show.