Come Visit the Liberty Bell in Philadelphia
Independence Hall echoes the words of Benjamin Franklin, "We hold these truths to be self-evident, that all men are created equal, that they are endowed by their Creator with certain unalienable Rights, that among these are Life, Liberty and the pursuit of Happiness" as they hold the world-famous monument: The Liberty Bell. The old cracked Bell proclaims Life, Liberty, and the pursuit of happiness. The spirit of Franklin is alive in this adopted city of New Jersey. Become a part of America's journey through discovering its awe-inspiring past.
What can be more powerful than history? The Liberty Bell is full of history, and one of the largest bells in the world. Made of seventy percent bronze copper with twenty five percent tin and small traces of lead, zinc, arsenic, gold, and silver, the Liberty Bell was made with a little bit of everything. Weighing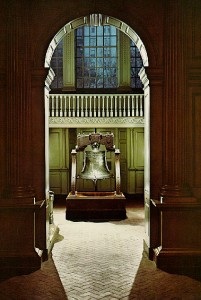 in at two-thousand and eighty pounds with a yoke of about one hundred pounds, the liberty bell is one massive jewel to behold with all that mass, it is only fit that it holds so much history.
Come experience the history up close and personal. Independence Hall, the Liberty Bell's new home, is just as powerful and histrionic as the Bell itself. Throughout the capacious illuminated main hall, larger than life historic documents, graphic images, myths, and facts surround the Liberty Bell for all to see. Become like Superman as you use X-Ray vision to see the Bell's crack and insides. Enjoy a short film capturing how the abolitionists, suffragists, and other groups have adopted the Liberty Bell as a symbol of freedom for all.
Ever wonder how the Liberty Bell's image ended up on everything? Well, at the Independence hall, you will be able to see first-hand how the Bell's image was used on everything from ice cream molds to wind chimes. Ascending crystal glass walls present you with vivid views of the Liberty Bell and the entire building.
With freedom being the at the very heart of America, the Liberty Bell with a Biblical verse from Leviticus: "Proclaim Liberty throughout all the Land unto all the Inhabitants thereof," gives all hope for life, liberty, and the pursuit of happiness. Come see the famous Bell from the hours of nine to five. There is no admission ticket required; however, visitors must go through a security scan prior to entering. This is one site worth seeing on your trip to Philadelphia.